Since we started business in 1974, we have been dedicated to being a leader in the off-road suspension industry. We continually strive to achieve that same goal and passion that our C.E.O had from 1974 to present day. With three generations working at Skyjacker® today, our goal is to never be satisfied with where our company is at. We aspire to keep innovating as well as to continue to be a benchmark in the off-road suspension world and to be recognized for the integrity of our people, the ethics of our business practices, and the quality of our products and service.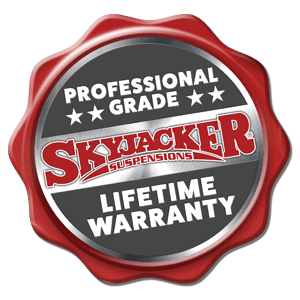 SKYJACKER® strongly recommends the installation of products be done by a certified mechanic. If this does not occur, be certain the person(s) installing the product read, understand and follow all instructions and warnings pertaining to the application before installation.
APPAREL AND SKYGEAR
We know how hard you work. Our products are meticiulously designed to support you and your busy lifestyle.
Skyjacker Suspensions offers FREE shipping, to the lower 48 states, on all orders over $99!